What to pack: the Diabetic backpacker
Category: Diabetes Backpacking
Published: Monday, 24 February 2014 10:21
Written by

Tim Omer

Hits: 16451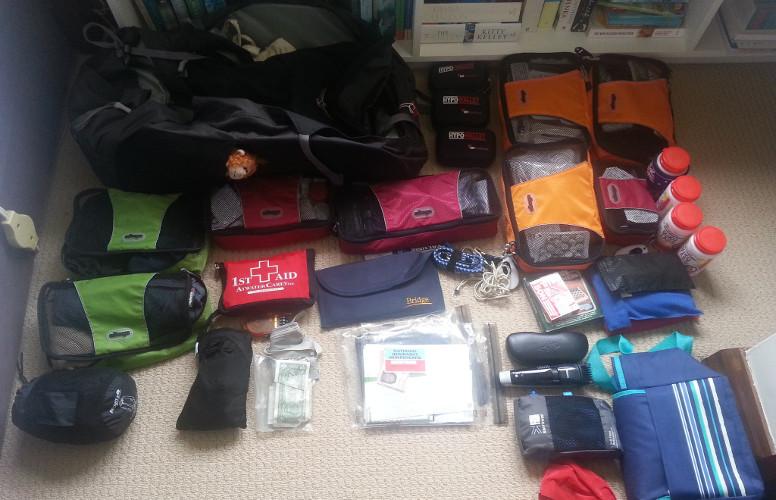 As said in my last post "What to pack: full kit summary for 10 months" I would do a post focusing just on my diabetes supply for at least 10 months of backpacking.
Plan
First thing is to workout what do I need, I created a Google Doc Spreadsheet that listed all that i use and approx daily usage, this is slightly over exaggerated. Feel free to make a copy of the spreadsheet.
Unsurprisingly I need a fair amount of kit! I don't want to be carrying all
of this around with me due to the large volume and risk of damage / loss.
Luckily 2 months into the trip I would be staying with a good friend in Singapore, as Singapore is very central to the locations we would be going I could easily afford two stop offs there and they have very reliable and well priced postal options. This allowed me to only pack 4 months supply to travel with and post the rest to Singapore, be sure to check the law of bringing perception medication into any country via post and provide plenty of details in the box for example your perception, doctors note and a letter. Clearly insulin was not posted as Insulin cannot survive the temperatures in the cargo hull of a plane, more on insulin later.
Stocking up!
How do you get 10 months supply? As I'm sure any diabetic will know, with great difficulty from the GP in the UK! My tips...
Start stockpiling a few items to the side a year in advance if possible from your normal monthly prescription
If your type 1 diabetic and your cover is from the hospital tell them your plan and for any help they can offer, you never know what they may be able do.
NHS will only cover you for 6 months out of the country, tell your GP your going away for 5 months and push them for enough supply to last that long plus plenty spare for emergency. Being a little creative with your daily usage here will help along with tip 1.
Packing
I'm using packing cubes called eBags that allow me to organise my items and quickly identify them by colour. There are cheaper packing cubes out there, but your paying for quality here.
Also to avoid water damage and control humidity I'm using Aloksak Waterproof Bags packed with silicon gel sachets to remove any moisture.
My setup looks like the following...
3 Medium Orange eBags (2 for me, 1 for kinga as backup)
These bags hold 2 months supply of medical equipment.
In each bag there are two Aloksak Waterproof Bags packed as follows: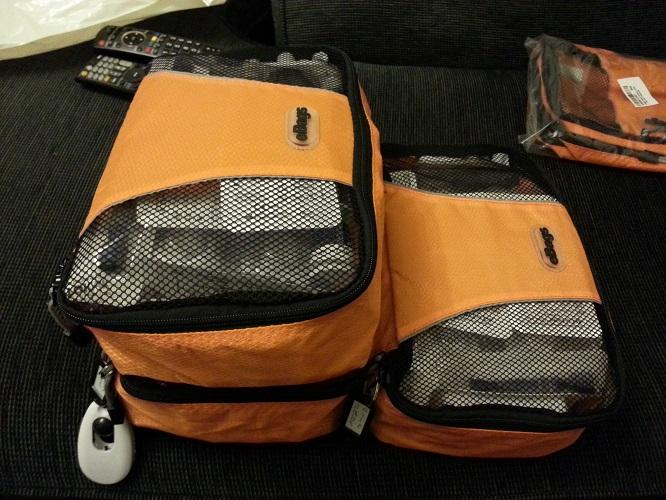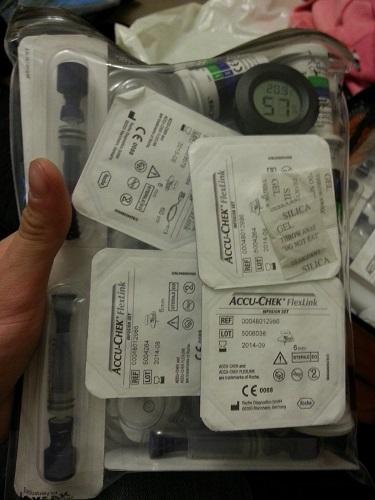 1 Medium Orange eBag
1 Small Red eBag
This bag always goes in my daysack with me and provides at least a week of supplies. This will give me some short term cover if my main bag is stolen or if I'm caught while out needing to replace something:
Keeping insulin cool
Now this is a challenging one. I am a big fan of the Frio Cool Wallets and have two large wallets, I also have a small Poncho Cool Wallet that carries at least one Humalog Vail and stays with in my daysack.
Now the cool wallets do a good job at keeping the insulin at a steady 20 to 24c (I have a digital and glass thermometer keeping an eye them).
Clearly this is not fridge temperature and Humalog should only be out of the fridge for up to a month. I'm pushing my luck with this, Humalog has a reputation of being a hardy insulin and can be purchased in most countries. When possible I will be sticking the insulin in the fridge.
Will see how I get along but expect to be purchasing some while on the trip and / or getting some from the UK brought over by friends joining us.
Misc items
Well that's about it, feel free to ask any questions in the comments!
Disclaimer
The contents of this site is for informational purposes only and is not intended to be a substitute for professional medical advice, diagnosis, or treatment. Always seek the advice of your Diabetes support team or other qualified health provider with any questions you may have regarding your medical condition.Sorry, have to say something like this!