The backpackers office, work & play with just a tablet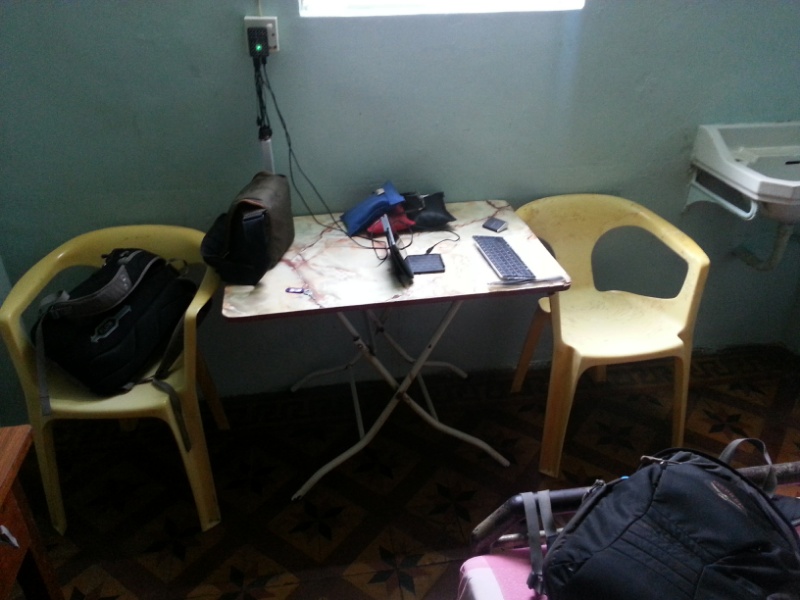 You can read more about me backpacking as a diabetic here: type1traveller.co.uk
My main device for all work and entertainment while backpacking for 9-12 months is the Nexus 7 tablet. This little device is very powerful with a fantastic screen at a reasonable price. I have a few configurations with this tablet that allow me to work and relax...
The Basics
Entertainment
While travelling we find ourselves with time to burn, be it waiting for flight or sitting on a train. What better than to catchup with a movie or two and tv shows?
On the Nexus I have installed:
Work
Sometimes it's best to have the Bluetooth keyboard and mouse connected when writing long emails, blog posts, working on remote computers etc. Once connected this setup is surprisingly comfortable and you will get many admiring looks from passers by on your kick arse setup.
Few apps that help with work...
Big Boy Work
Now, sit down, as this is just amazing, I still cannot get over it!
While the Bluetooth Keyboard and Mouse combo work well with the Nexus 7, there are times when I want a full blown desktop to run apps in as Android and its Apps are just not meeting my needs.
While traveling I discovered a way to boot a full Linux desktop from the Nexus 7 - OMG! And this sits along side Android, no need to wipe the device - for real!?
Seriously, this is just amazing and works very smoothly. To get the best exspireance I made the following adjustments...
Once setup this is a amazing portable office, I keep showing Kinga how amazing this is but she just gives me a blank look with a little bit of pity.
Finally, to top it all off get your hands on a SlimPort Adapter cable, this provides HDMI out from the tablet and a port that still allows it to be charged, with this you can plug into to any HDMI TV and enjoy all the above on a big screen.
Job, done!
Given a stable internet connection with this setup working and relaxing while traveling is surprisingly easy and productive. Even using the Bluetooth keyboard with our Samsung S3 phones kinga can hammer out a blog post in time.
Unfortunately while wireless internet is easy to come by in Asia, the quality of the connection at guesthouses (mostly due to too many tourists on Facebook / Skype) can be an issue. Connecting in a restaurant with a cool drink is a good way to find a stable connection.
Enjoy.