Gmaill new look - designed for fat fingers
Gmails new look is hitting Apps users and thought I would dive in and take a look. I had a sneak peek a few months ago and got very upset when I lost a lot of my work space to an over use of white space!

Looks like this is a move by Google to support touch screen displays, jabbing a screen would be much easier with this layout but not helpful on my work laptop \ desktop when screen real estate is a premium - especially when making use of the fab Multiple Inboxes Lab feature. But, do not fear by clicking the cog on the top right you will see there are Display Density options...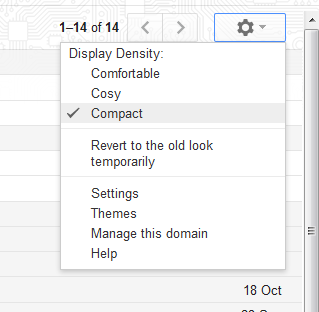 Much better!